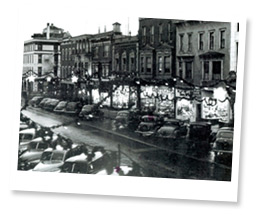 Shenandoah, Pennsylvania was incorporated as a Borough in January 16, 1866, having been laid out by Peter Schaeffer of Pottsville in 1862. The first known resident was a man named Peter Kehley. With the discovery and commercial mining of anthracite coal in the Southern coal fields from the early1830's, land speculators began to send surveyors into the northern regions, that is, north of Broad Mountain in search of possible coal lands. By 1850 Peter Kehley had sold his land to the Philadelphia Land Company and several investors sent agents into the area to hold the land and protect their investment. The tremendous need for coal at the outbreak of the civil war fueled the necessity of finding and operating new coal deposits north of Broad Mountain. Thus in 1862, the first colliery in Shenandoah was opened. This was Shenandoah City Colliery.
Shenandoah celebrates its ethnic diversity. In the 1870's, the Irish were the predominate immigrants to come to Shenandoah. Beginning in the late 1870's, immigration shifted from the Western European to the Eastern European countries, predominately Lithuania, Poland, the Ukraine, and Slovakia. As each new wave of immigrants arrived in Shenandoah, they set to establish their own church with services in their own language and eventually establish parochial schools where their children could be taught both in English and their own language and custom. In the 1930 Shenandoah boasted 22 nationalities, 22 churches.
The Columbia, Shenandoah first Fire Company, was organized on August 1, 1871. At the present time there are five volunteer fire companies of which Shenandoah is proud. They are the Columbia, Rescue Hook and Ladder (Hookies), Polish American, Phoenix, and the Defender.
Shenandoah has an outstanding record of military service and achievements during the past five years. The town is really proud of the people who served. Approximately 3,600 men and women served in the various branches of the service.